Guide to communication Network Services
Service Contents
*

In addition, following optional services are available for organizers.
LAN service
Optical fiber cable service
Please contact us if you like detailed information.
Inquires
In House Communication Line Services Desk.
Big Sight Services Corporation
Open Hours:9:00~18:00
FAX:+81-3-5530-1106
E-Mail:
Guide to communication Network Services
Basic schedule (from application)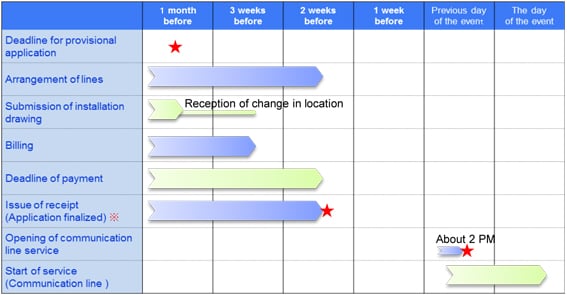 *

Please note that the application is provisional until the payment is confirmed and receipt is issued. The line will not be opened if the application is provisional.
General Items
a. Consultation services and deadline for provisional application
Tokyo Big Sight Inc., for technical consultation to facilitate use of Tokyo Big Sight's in-house communications environment and to submit an application.
Provisional applications are accepted up to 4 weeks prior to the first day of use.
FAX:+81-3-5530-1106
E-Mail:

b. Arrangement of lines
Based on your application, we will perform construction work to arrange the types and number of temporary lines you require.
(2008 revision)
c. Submission of installation drawings
When line use is to begin on or after November 20, 2008
Please submit a floor plan that clearly shows where you wish to have lines installed (access locations for booths, display corners, and rooms).
Please understand that, if you do not submit this drawing, construction may not be completed by the time your exhibit begins. Please attach the drawing to each application form (using A4-sized paper). Although any format can be used, please clearly indicate the locations of line access points on your booth floor plan.
d. Billing and completion of payment and application
Approximately one week after receiving your provisional application, we will send to you a bill showing a monetary amount that is attained by calculating the total usage fees for temporary line services and consumption tax. Please send this amount by bank transfer to the account provided on the billing statement. You need to pay a bank transfer fee when you transfer money. After payment is received, we will issue a receipt to you. Your application will then be considered finalized.
It should be noted that if your billing is to include an amount that corresponds to actual use (calling charges, etc.), we will send to you an additional billing statement that covers such charges approximately two weeks after the end of your exhibit. Furthermore, if the user of communication line services is the organizer of an event, the following procedure may be used: Application → Use → Post-event billing based on actual use → Payment.
(In this case, the organizer and the billed party must be the same.)
You can use the transfer statement issued by a bank as a receipt of your payment when you pay the fee by bank remittance. Contact us if you need a receipt from us.
e. Construction and installation
If you will use communication lines within an exhibition hall, service will be scheduled to begin at 2:00 P.M. (completion of construction) on the day prior to the opening of your exhibit. If you will use the lines inside a meeting room, please inquire about the day service will begin beforehand.
We will provide telephones and modular jacks for the locations you designated in the installation drawings that you submitted in step c. However, please be aware that how booths are set up, the number of lines needed for the entire exhibition hall, etc., may affect the time when we can supply these items.
As the user, please set up your booth by taking care not to break any cables, damage loaned devices, etc. You will be billed additionally for the full cost of any cables that must be re-laid, damaged devices, etc., as well as for re-construction that becomes necessary due to major discrepancies with locations noted on the drawings you submitted. Also, please note that no cancellations will be accepted after construction and installation work has been completed.
f. Demolition
When the event has concluded, we will remove communication lines and check exhibit conditions. At this time, we will ask you to remove any booth decorations, being sure not to break any cables or damage loaned devices.
g. Other items of importance
i.

In order to maintain communications quality during use of communication lines, lending and sales of communication lines from the contracting party (entered into a contract with Tokyo Big Sight, Inc.) to third parties is strictly prohibited. Please be aware that we will not provide communication lines if activity involving lending or sales is allowed to occur. However, if the organizer itself approves lending and/or sales of communication lines in the exhibition hall it is using and no other area, said lending and/or sales will be allowed on the condition that communications quality is maintained together with Tokyo Big Sight.

ii.

Tokyo Big Sight will not accept responsibility for poor communications quality caused by problems with public communications providers should you use external communications.

iii.

Please refer to the nominal values of communications providers if you have questions pertaining to external communications speed and quality.Tokyo Big Sight makes no guarantee with regard to communications speed.

iv.

Restriction of liability

Tokyo Big Sight shall not bear responsibility for any damage suffered by the applicant due to cessation of service use, application cancellation, temporary stoppage, or changes in the applicant's use environment based on this application, nor shall it bear responsibility for any damage suffered by the applicant that is caused by conflicts with third parties that are not attributable to Tokyo Big Sight.
Notwithstanding the above paragraph, if Tokyo Big Sight does not provide services that it is required to provide for reasons that are attributable to it, Tokyo Big Sight shall reimburse the applicant for damages suffered (in response to a claim submitted by the applicant) on the condition that said non-provision of services continues for a period of three hours or more from the time that Tokyo Big Sight became aware that the user was unable to use the services completely.
In the event that the situation described in the above paragraph transpires, the hours and days that said situation continued from the time that Tokyo Big Sight learned that the user was unable to use these services completely shall be added up. The usage fee pertaining to said services for the total number of these hours/days shall be considered damage suffered by the applicant. Reimbursement paid by Tokyo Big Sight, Inc., shall cover this damage only.