2022/08/22
JIMTOF 2022 (The 31st Japan International Machine Tool Fair) Announces the Details of the Programs of the Keynote Speech, Lectures and Seminars
August 22, 2022 – JIMTOF 2022 (The 31st Japan International Machine Tool Fair), one of the largest machine tool exhibitions in the world, organized by the Japan Machine Tool Builders' Association and Tokyo Big Sight Inc., will be held at Tokyo Big Sight for six days from November 8 (Tue.) to November 13 (Sun.), 2022.
 
JIMTOF 2022, one of the world's largest international technology exhibitions will feature the biggest-ever scale of exhibits presented by approximately 1,000 companies, using 118,540㎡ of indoor exhibition space, utilizing the entire area of Tokyo Big Sight . This year's Special Event under the theme, "Additive Manufacturing Area in JIMTOF 2022" will take place in the South Exhibition Hall.

●Pre- Registration for Admission
Admission registration will begin on Thursday, September 1, 2022 through the Official Website (www.jimtof.org).
The main program of the lectures, seminars, talk sessions, and exhibits held during the Fair is as follows:

●New Additive Manufacturing (AM) Area
The highlight of JIMTOF 2022 will be the Special Event taking place in the South Exhibition Hall bringing together AM/3D printing-related products and technologies. Additive Manufacturing is a prominent trend that is expected to grow. It is also gaining attention in the machine tool industry, where the needs are diversified, as an innovative technology within the manufacturing process that
can reduce the number of parts needed, shorten the lead time, and enable high-mix low-volume production. In addition to the "Exhibit Area", a "Special Seminar Venue" will be set up in the Area. At the Special Seminar Venue, more than 15 lectures on AM/3D printing and a workshop given by the exhibitors will be held.

●Keynote Speech and Special Lectures
On November 8 (Tue.), the first day of JIMTOF 2022, Mr. Masamichi Okada, President of Primearth EV Energy Co., Ltd., will deliver the Keynote Speech entitled, "Monozukuri – The Frontier of a Carbon-Neutral Era". On November 10 (Thu.), Mr. Takanori Isobe, Associate Professor of the Graduate School of Information Science, University of Hyogo will give a Special Lecture on "Cryptography of the 6G era". Also, on November 11 (Fri.), Mr. Chisachi Kato, Center Director and Professor of the Institute of Industrial Science, The University of Tokyo, Center for Innovative Simulation Software, will give a Special Lecture titled, "Simulation-empowered manufacturing in the Fugaku era – The present status and future perspectives of large-scale fluid flow simulations – ".

●Special Exhibit
JIMTOF 2022 will introduce the advanced technologies of the industry-leading machine tool manufacturers and explore the 'Monozukuri' factory of the future. The Japan-made products with top market share created by state-of-the-art machine tools produced in the factory will be exhibited across the board, showing the roadmap to the "Future of Monozukuri".

●Special Display
JIMTOF 2022 will feature a special display of IHI's jet engine technology, a technology playing a major role in the global aviation industry. Each engine draws on its high technical capabilities, backed by history and tradition.

●Digital Contents
JIMTOF 2022 also enhances digital contents by providing an online catalog enabling the collection of pre- and post-information, an exhibitor online channel that publishes exhibitors' webinars and product introduction videos, and a matching system that enables more efficient business opportunities.


Note to Editors:
<About JIMTOF >
A machine tool specialized exhibition, JIMTOF is regarded as one of the largest international technology exhibitions in the world, which introduces machine tools and their surrounding machines as a whole range exhibition for manufacturing companies and institutions. It also introduces the latest and most cutting-edge technologies and products in the area of machine tools. JIMTOF has been held biennially for over 50 years since 1962 and marks its 60th anniversary in 2022. In JIMTOF 2022, products of a variety of industries including Metal Cutting Machine Tools, Metal Forming Machine Tools, Machine tool accessories, Tools for machines (cutting tool & wear-resistant tool), Diamond and CBN Tools, Grinding wheels and abrasives, Gears and Gear Devices, Oil hydraulic, pneumatic and Water hydraulic machinery, Precision measuring machines and instruments, Optical measuring instruments, Testing machinery and CAD/CAM, among others, will be exhibited, and the latest information of products and technologies will be shown to the visitors. JIMTOF has an established reputation as an exhibition where visitors can obtain the latest information on a variety of products used in the manufacturing industry.

[Contact]Tokyo Big Sight Inc. JIMTOF Fair Management Office
jimtof@tokyo-bigsight.co.jp Tel: +81-3-5530-1333
[Contact for Press] Public Relations Office: VA International Corporation
Mr. Hayato Kobayashi / Ms. Megumi Tanaka
vai@va-intl.co.jp Tel: +81-3-3499-0016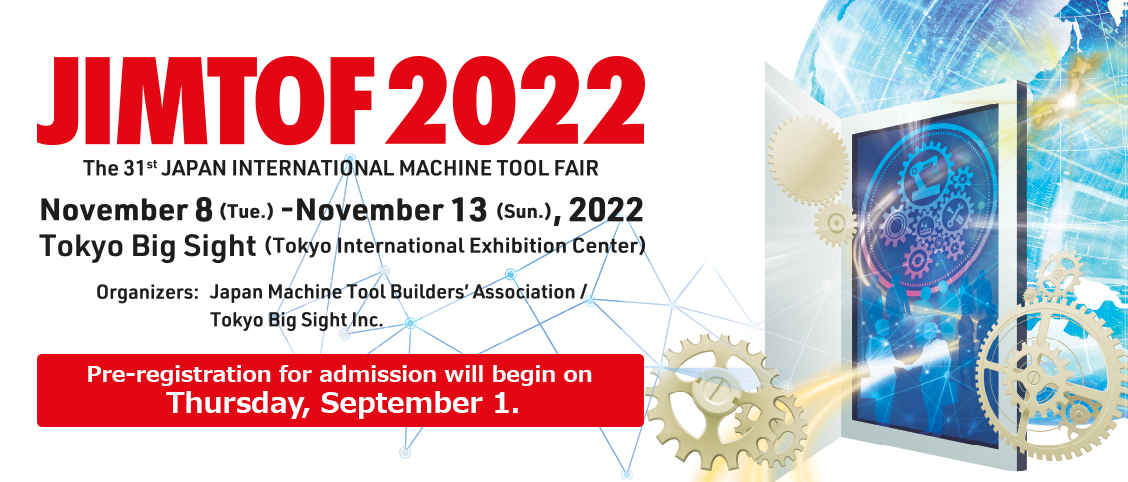 ---